What Makes the MHSA So Special?!
Blogpost #1: Inside the Venue, McDonogh School
Lauren Glickman, MHSA Guest Blogger
Where is the McDonogh School located?
8600 McDonogh Rd, Owing Mills, MD 21117
McDonogh School is conveniently located 30 minutes from Baltimore and just over an hour from Washington, DC. It is a beautiful facility located on the McDonogh School campus, a co-educational K-12 boarding and day school.
History of the Facility:
The equestrian facility is one of the oldest aspects of McDonogh's property. The school was originally an all-boys academy and the riding program has been around for most of its history. The first cavalry drills began in 1926 (pictured). Since then, McDonogh has built and re-built an impressive barn complete with an indoor ring, plenty of spacious stalls, and several large tack rooms. The equestrian program is especially fond of the three large sand show rings and state-of-the-art indoor that have been home to thousands of prestigious competitions.
What types of shows are held at McDonogh?
Shows are held at McDonogh throughout the year. It hosts almost weekly local, regional and nationally-recognized horse shows annually. For MHSA, this includes shows in both the Regional Program, including the MHSA Regional Finals (started in 2014) and A-rated, B-rated and C-rated USEF shows.
McDonogh is also home to the Bay State Classic in August, which hosts the MHSA Adult Medal Finals and MHSA Children's Pony Medal Finals. In addition, McDonogh is home to the USHJA Maryland Stirrup Cup Finals.
It also has its own derby program with multiple opportunities to qualify for a derby finals in the fall. Their main outdoor ring is strategically designed for challenging derby courses
.
What are the rings like?
There is an indoor ring and three outdoor rings (one is dedicated for schooling during shows). As mentioned above, the main ring has a unique set up for equitation and derby style courses, and a gazebo and bleachers for excellent viewing. The second outdoor ring, regularly hosts the jumper divisions. The indoor ring, while not massive, rides comfortably with 5-6 stride lines. The footing in all 4 rings is superb and well maintained with a mixture of euro felt and sand footing
.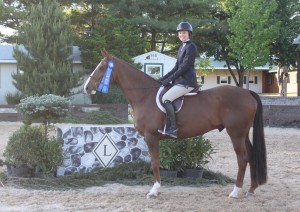 How is the parking?
Parking is available in fields surrounding the property. If there is persistent rain leading up to a show, check with the show management team as ground can get saturated.
What's the food situation?
There is on-site concession that offers the standard horse show foods, grilled cheese, quesadillas, chicken fingers and wraps, in addition to breakfast sandwiches.
Stabling options?
There are both permanent (70 stalls, but also house permanent McDonogh equine residents) and temporary stall options, but the space for stalls is finite, so make sure to reserve your stalls early!
Nearby attractions?
There are numerous hotels and restaurants within miles of the show grounds. There is also a Trader Joes. Sutton Place Gourmet is local favorite. There's also a Dunkin Donuts, Starbucks and Smoothie King less than 2 miles from the show grounds. There is also a mall. With its close proximity to downtown Baltimore, there is easy access to the Baltimore Harbor with its restaurants, shops and a personal favorite, the Baltimore Aquarium.
Other tips:
Some shows require pre-registration and have deadlines to be aware of. Almost all of the shows have online registration available via horseshowing.com and you receive a discount for registering in advance.
If you want stalls, make sure to call early because they fill quickly. Given how conveniently the facility is located to Baltimore, traffic can also be an issue around rush hour. The indoor ring also hosts a wonderful heated bench for those colder winter shows and chilly early spring and fall competitions.
More Information:
Website
Social media:
Facebook – Twitter – Instagram
About Lauren: Lauren Glickman founded WindyGlick Communications to help small businesses and non-profits utilize social media and other online communication tools. When not tweeting or instagramming, Lauren enjoys cooking, bluegrass and being outdoors with her dog Basil. She is an adult amateur and you can find her and her horse Marli at regional MHSA horse shows and Surmont Stables in Poolesville, MD.